For an extensive selection of contact lens brands and types at fair prices, your Solana Beach choice is Total Vision. Part of the Total Vision eye care network, Total Vision Solana Beach prides itself on offering the latest vision and eye health solutions.
Your Contact Lens Fitting
Even if you have been wearing contact lenses for years, a contact lens fitting is required annually. This allows your Total Vision Solana Beach optometrist to track your eye health over time and make any necessary updates to your prescription year to year.
Additionally, our eyes change over time, and the brand that fit perfectly last year may no longer be the best choice this year. Your optometrist will prioritize your comfort and clarity of vision to ensure you have the best possible contact lenses for your unique needs.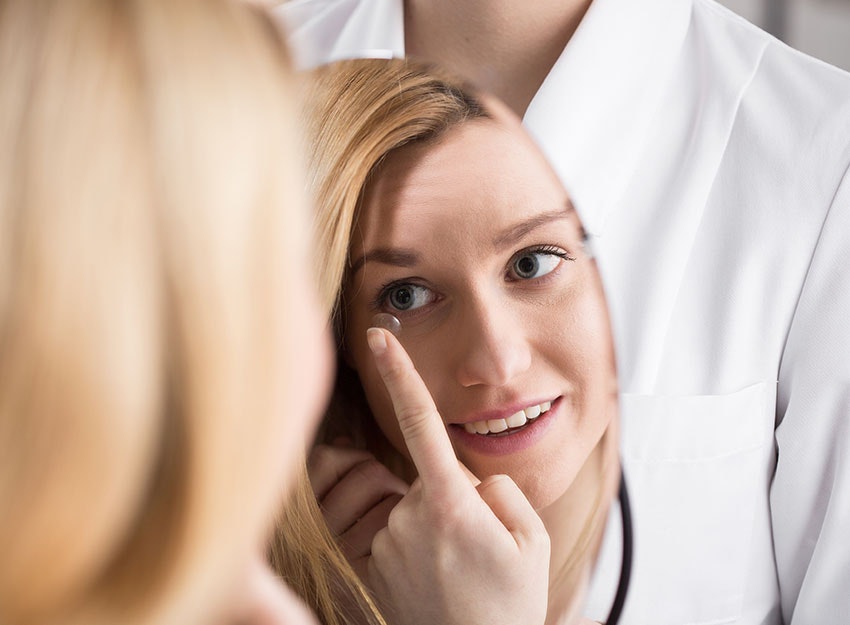 The Right Contact Lenses For You
Depending on your particular vision problems, different contact lenses will better correct your vision. At Total Vision Solana Beach, you can be confident that you have access to the best options for you. Your skilled optometrist is highly experienced in matching patients with the most comfortable, effective contact lenses possible. We strive to give you the very best experience.
Contact Lens Types at Total Vision
Soft
Appropriate for treating nearsightedness, farsightedness, and astigmatism, soft contact lenses are the most popular contact lens type. This is likely because they are immediately comfortable to wear for most patients. Available in longer wearing and disposable forms, as well as fashion color lenses, soft contact lenses fit comfortably while also fitting into your lifestyle.
Rigid
Rigid or rigid gas permeable contact lenses can also treat nearsightedness, farsightedness, or astigmatism. Rigid contact lenses last longer than soft contact lenses and can offer even crisper vision for many patients. However, rigid contact lenses require a period of adjustment for most patients before they feel entirely comfortable.
Multifocal
Commonly prescribed for patients with presbyopia, or the blurred vision that often develops after age 40, multifocal lenses include more than one prescription. Although learning to look through them correctly for effective vision correction may take a little getting used to, many patients are very happy with their multifocal contact lenses.
Toric
Toric contact lenses are specially shaped contact lenses made to treat astigmatism. Available in both soft and rigid, toric contact lenses give sufferers of astigmatism more and better options for treating their blurred vision.
During your contact lens fitting, your Total Vision Solana Beach optometrist will ensure you understand how to clean and maintain your contact lenses. They will also share a replacement and disposal schedule, which must be strictly adhered to. Wearing contact lenses longer than recommended can cause infections - and nobody wants that!
Contact Lenses at Total Vision Solana Beach
As part of the Total Vision eye care network, Total Vision Solana Beach is able to offer an expansive selection of the most trusted and best selling contact lens brands. With better selection, easy reordering, and our convenient Solana Beach location, we ensure you can get the comfortable, easy-to-wear contact lenses you need as soon as possible.