Your Del Mar comprehensive eye care center is a reliable place to fulfill the eye care needs of the entire family. Experience the ease and convenience of filling your prescription on the same day as your eye exam. Feel confident and secure knowing that your glasses will look great and perform beautifully when you choose Optique Del Mar.
Stylish Designer Frames for Performance
To serve you best, we stock a wide variety of fashionable, durable glasses, including designer brands you know and trust. Browse big name designer glasses from Dolce & Gabbana, Prada, Chanel and more, alongside performance frames from Oakley, Persol, Nike and others. Whether you prefer daring statement glasses or opt for barely noticeable light frames, you can find a pair of glasses that suit your personality as well as your face at Optique Del Mar.
Get assistance selecting your glasses from a trained optician, who will take into account your face shape and hairstyle, personal style, and lifestyle needs to help you find a pair of glasses you'll be glad to wear every day. Our hope is always to provide a well deserved boost of confidence along with a fantastic pair of glasses.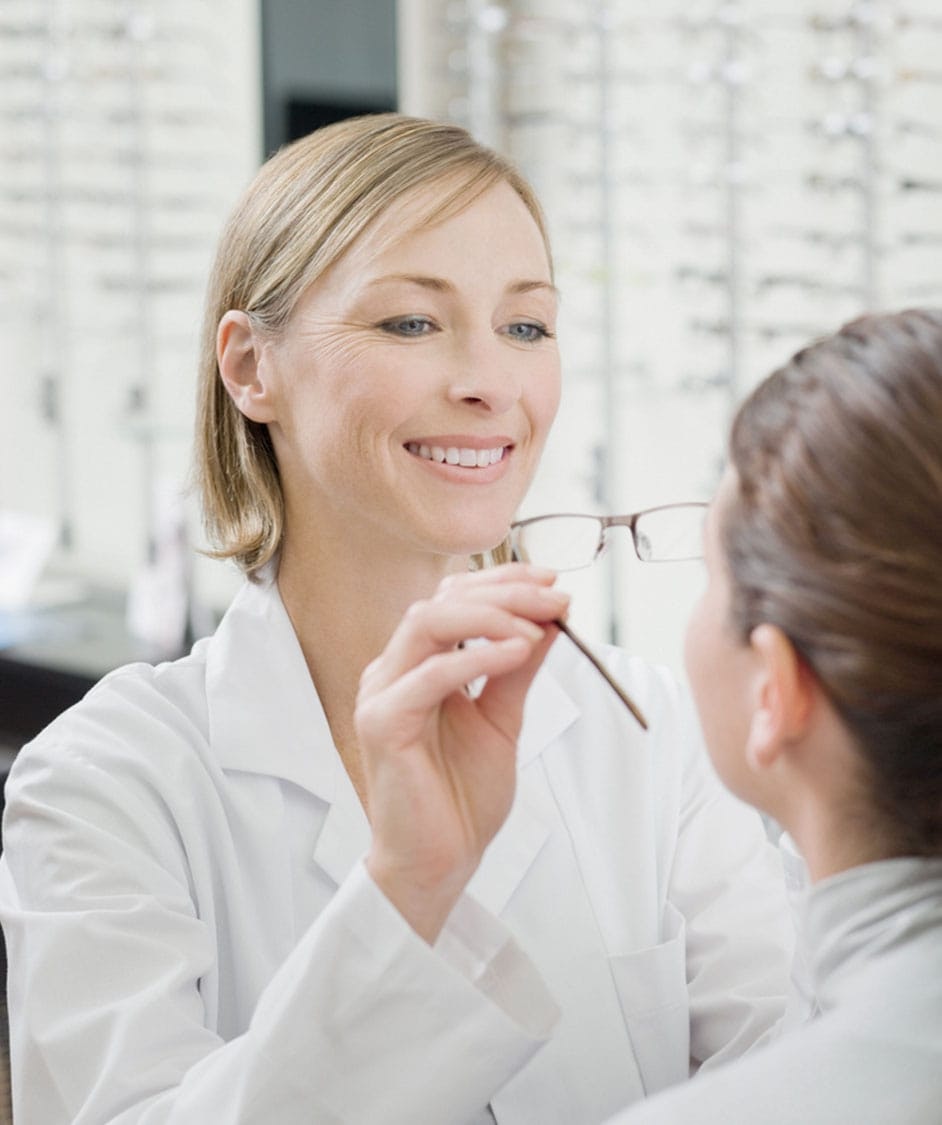 The Lenses You Need, the Treatments You Want
At Optique Del Mar, the wealth of choice does not end with glasses frames! We also offer a wide variety of lens types and treatments including high index, multifocal, progressive addition, anti-reflective coatings, progressive lens design, Transitions®, polycarbonate, polarized lenses, and more. Your optician will explain the utility of every choice for your particular needs and ensure your glasses are as effective and useful as they are good-looking.
Fitted and Forget It
A properly fitted pair of glasses are easy to wear all day long through every activity. But without the proper attention of an optician, even designer frames are vulnerable to slipping down the nose, pinching at the temples, and other uncomfortable issues. Your Optique Del Mar optician will take the time to perform the delicate adjustments necessary to make your frames feel as if they were made just for your face. Here we specialize in providing patients with glasses that they not only love but look their best in.
Sunglasses
Sunglasses do more than just look great - they protect your eyes against the UV Rays that can damage your eyes and increase your risk of eye diseases. Even if you do not require a prescription, a pair of high-quality polarized sunglasses are one of the easiest steps you can take to maintain your eye health. At Optique Del Mar, you can choose from trusted sunglasses brands like Ray-Ban, Hugo Boss, Maui Jim and more.

Visit Us in Del Mar
Attend to all of your vision and eye health needs in one convenient, welcoming place at Optique Del Mar. As part of the Total Vision network, we remain committed to offering the latest and best in optometric care. From glasses and contact lenses, to eye exams, to diagnosis and treatment of eye diseases and conditions, you can rely on Optique Del Mar to deliver exceptional eye care for the whole family.