Ladera Ranch Optometry provides a wide collection of contact lenses to fit all your vision and lifestyle needs. Our trained opticians discuss your expectations, lifestyle, and prescriptions to recommend the ideal contact lens types and brands for your specific goals. Whether you've been wearing contact lenses for years or have just started, our trained opticians help you make an informed and educated decision. We want to break the pervasive myth that contact lenses aren't as comfortable or convenient as glasses. We will help you find contacts that provide complete visual clarity while being extremely comfortable.
Your Contact Lens Fitting in Ladera Ranch
Contact lens prescriptions generally last a year. As such, you must schedule annual contact lens fittings to update your prescription — wearing lenses with an outdated prescription may worsen your eyesight and visual acuity. During your contact lens fitting at Ladera Ranch Optometry, our optometrists administer various visual acuity and vision tests to identify your existing contact lens prescription. Following the tests, our optometrists also discuss your unique expectations and lifestyle goals to recommend the ideal types of lenses and lens treatments for your specific needs. You can either schedule your contact lens fitting independently or with your annual eye exams.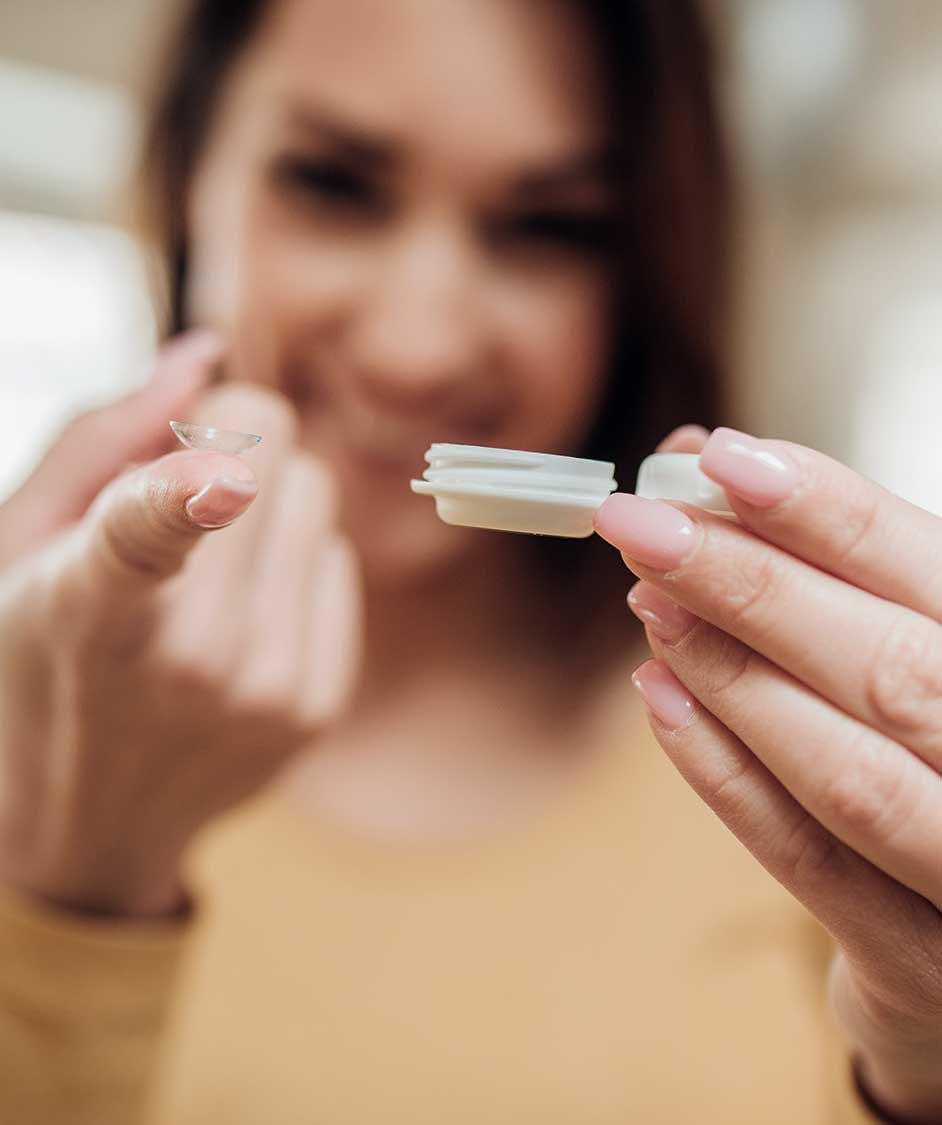 The Most Reputable Brands for Contact Lenses
As part of the Total Vision eye care network, Ladera Ranch Optometry stocks the latest collections from the most reputable contact lens brands. We ensure that you always have access to the latest cutting-edge developments in contact lenses. Furthermore, we also simplify the ordering and reordering process in Ladera Ranch to make sure you're never out of contact lenses.
Types of Contact Lenses
Soft Contact Lenses
Soft contact lenses are the most commonplace and popular type of lenses. They're easy to wear and immediately comfortable with no adjustment period. You can find soft contact lenses for most vision needs, including nearsightedness, farsightedness, and astigmatism. You can also get disposable or long-wearing soft contact lenses, making them incredibly versatile.
Rigid Contact Lenses
Rigid contact lenses are harder than soft contact lenses, and they also involve a brief adjustment period. As such, you may find them a little uncomfortable initially, but you'll eventually get used to them. However, some people prefer rigid contact lenses because they provide even greater clarity than soft contact lenses. Rigid contact lenses are also available for most vision needs, including nearsightedness, farsightedness, and astigmatism.
Toric Contact Lenses
Toric contact lenses treat astigmatism, a type of refractive error caused by wavy irregularities on the cornea. Toric contact lenses are shaped like a donut, specifically curated for astigmatism. They're available in soft or rigid styles.
Other Types
Besides the three prominent types of contact lenses mentioned above, you can also find a wide range of other contact lens types. You can get specialty contact lenses to treat specific eye conditions, such as keratoconus or dry eye syndrome. You can get multifocal contact lenses to combine prescriptions to address various refractive errors simultaneously. And you can also get colored contact lenses for cosmetic purposes.
Find the Ideal Contact Lenses in Ladera Ranch Today
Ladera Ranch streamlines the entire contact lens fitting, buying, and maintenance process. Our optometrists provide contact lens fittings during regular eye exams, help you choose the ideal type of contact lenses for your requirements, and provide instructions on care and maintenance. For more information about contacts and prescriptions, we will gladly help you schedule your consultation and fitting today.