When it comes to glasses, you have many options, but the benefits of working with a trained Total Vision optician are many. For a wide selection of designer frames, the most up to date variety of lens options, and the personal care you deserve, visit us. You will leave satisfied you chose us.
Choosing the Right Frames
Whether you have worn glasses for years or you are shopping for your very first pair, your choice of glasses says a lot about you. Make sure what they have to say matches your intention with the help and guidance of the staff at Total Vision.
At Total Vision in Carmel Valley, your optician will help you select a pair of glasses that suits your face and helps you look and feel your best. They will also fit your glasses to protect against slipping or discomfort. From bright and bold statement frames to delicate and barely visible, we will go the extra mile to ensure you walk out of our office with the ideal pair of glasses for your unique needs.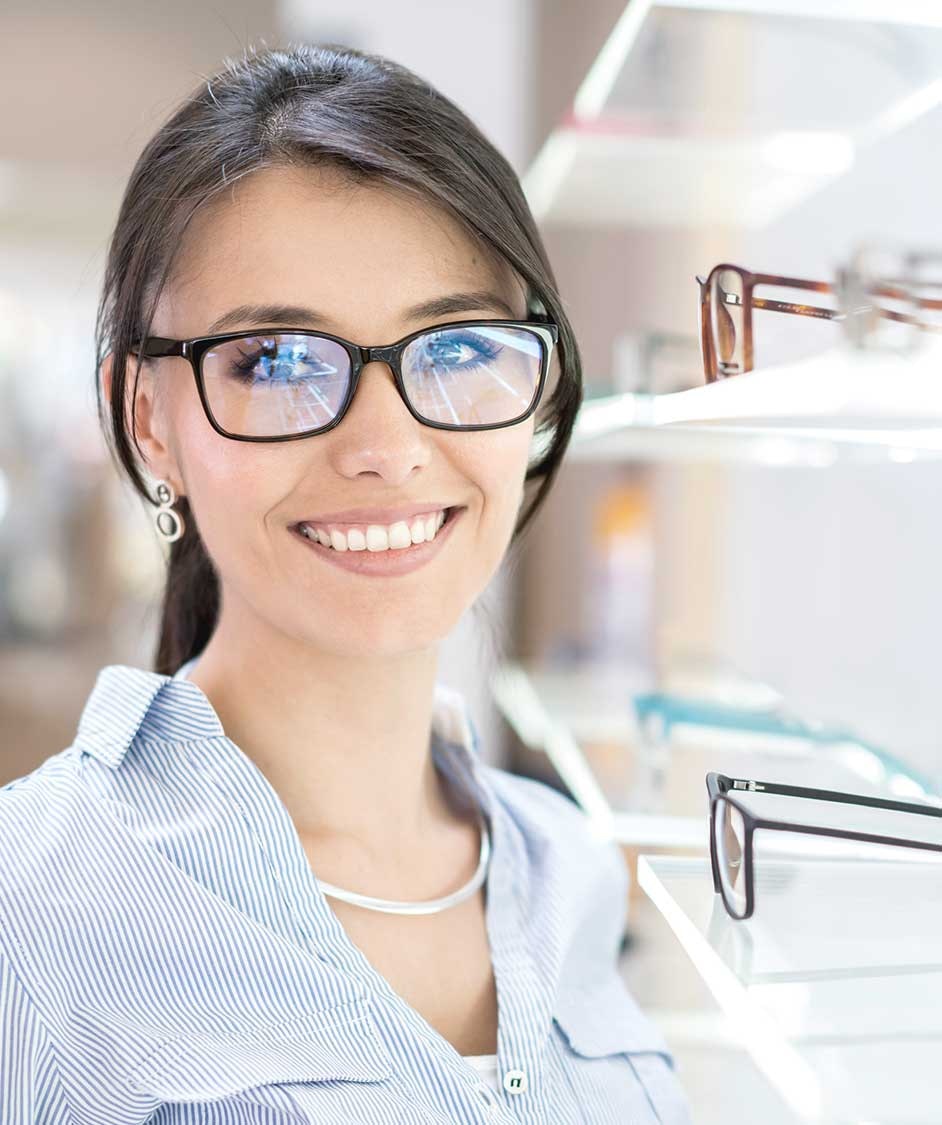 Glasses That Fit Your Life
Are you an athlete? A bookworm? A sophisticate? A trendsetter? Your lifestyle and personality are major considerations in your choice of glasses. Your Total Vision optician will ensure your frames compliment your looks and your priorities. The right pair of glasses can enhance your lifestyle, the wrong pair can get in the way.
Prescription Sunglasses
Both for your comfort and to guard against serious eye problems such as retinal detachment, a great pair of prescription sunglasses are a must-have. Your Total Vision optician can help you make the right sunglasses choices for your style and eye health.
Reading Glasses
As we age, our visual acuity may decrease - but that is no reason we should not continue to look great and enjoy life! Total Vision stocks fashionable reading glasses that clients can find in every strength.
Computer Glasses
If your eye doctor has prescribed specialty computer glasses due to computer vision syndrome or digital eye strain, your Total Vision optician will help ensure your doctor's orders are followed to the letter. Leave eye strain and headaches behind with the right pair of computer glasses.
Lenses & Lens Treatments
Once you've arrived at your perfect pair of glasses, there are still more options to choose from. Depending upon your lifestyle needs and the strength of your prescription, you may be best served by different lens types and lens treatments. Your optician will explain the utility of the wide variety of lenses and lens treatments we offer at Total Vision in Carmel Valley to ensure you get the most out of your glasses. Options include:
Polycarbonate
High-Index plastic
Trivex
Aspheric
Photochromic (Transitions)
Anti-reflective coatings
Progressive lenses (Multifocals)
Polarized lenses

Visit Us
To find your glasses match-made-in-heaven, join us at Total Vision in Carmel Valley. Taking into account your personal style, your prescription needs, and your lifestyle, our opticians will help match you with a pair of glasses you'll love to wear every day.